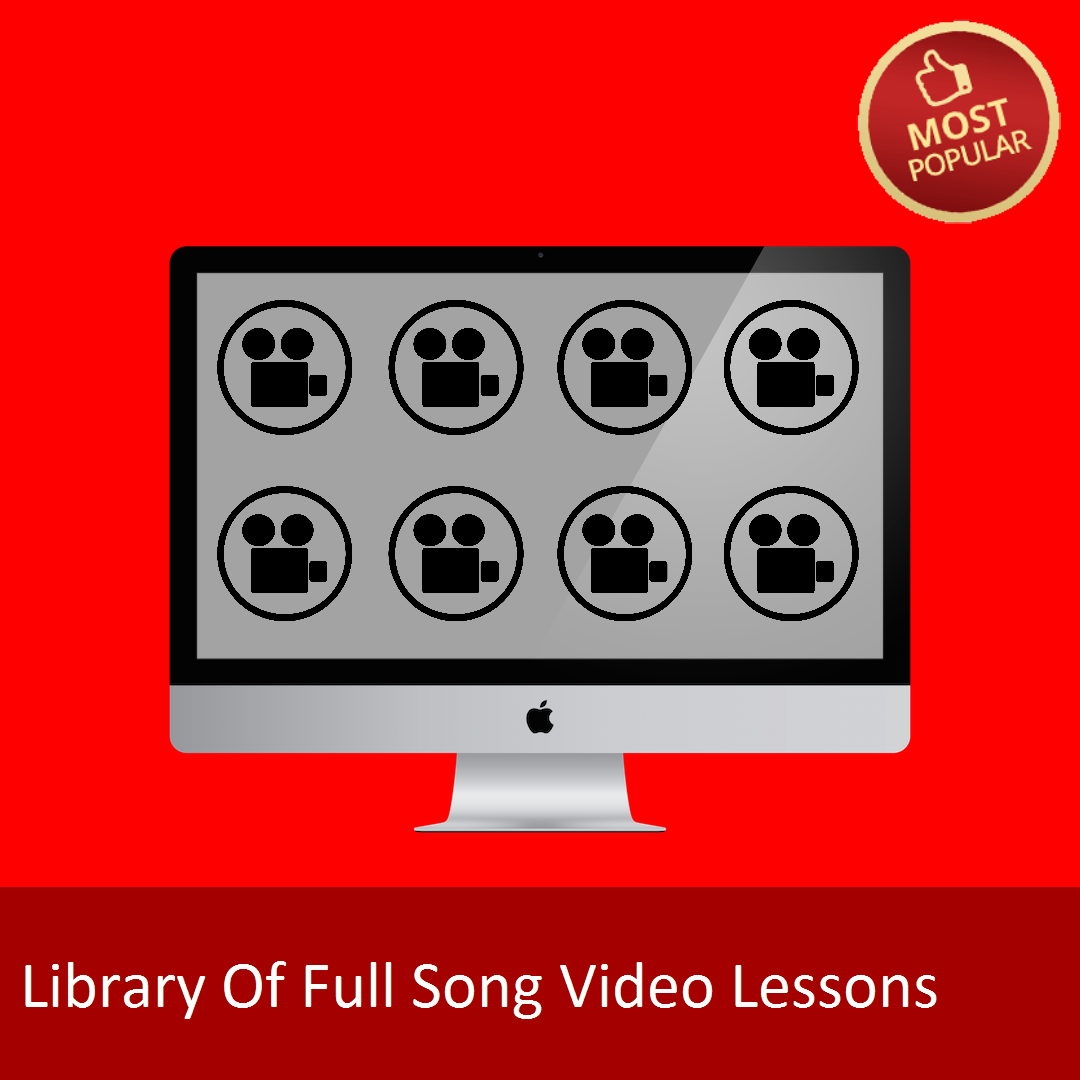 Do you have many popular songs you want to play on the piano, but you just don't know how to learn them properly without the use of sheet music or wasting days to months attempting to guess the notes for it?
Or perhaps you are sick and tired learning classical songs from expensive traditional piano teachers, and just want to learn some popular songs that many people like but the traditional teachers do not how to play or teach them.
Do you feel annoyed by trying to learn popular songs using Synthesia videos online because it is no fun trying to play a 88-key piano version of Guitar Hero where you end up straining your eyes by watching bars flying down the screen because no one is verbally telling you what are the notes …?
Hello there, this is Amos, owner of a Piano YouTube Channel called Amosdoll Music.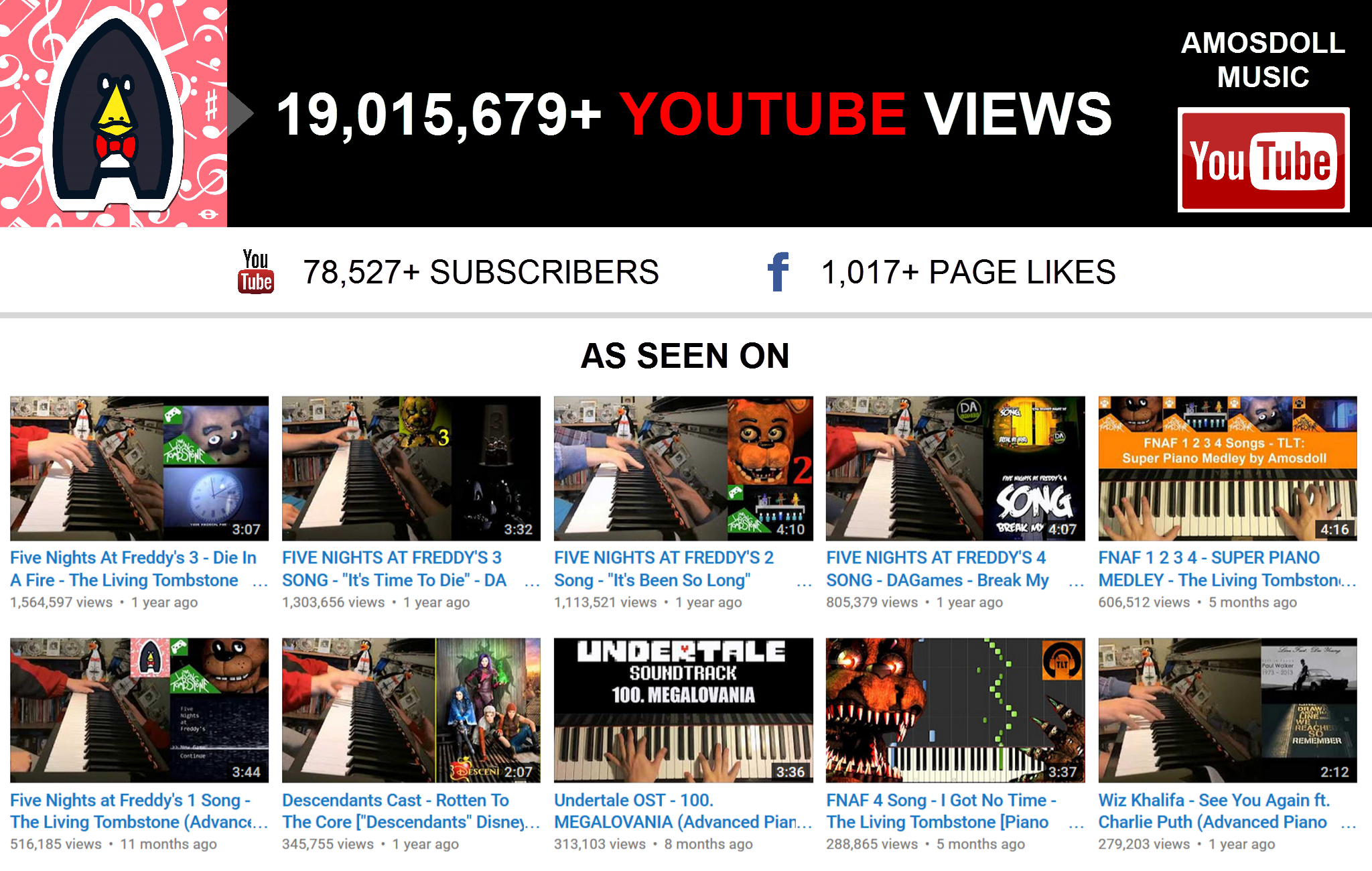 I have posted over thousands of piano covers on popular songs and have made Full Song Video Lessons for a portion of them where they are all compiled into this library for those who are interested.
Unlike many other teachers out there who may teach something they don't really do or understand, these are legitimate tutorials that I personally made where I accurately teach the songs using the same methodologies that I use everyday.
I preach what I teach!
and most importantly...
I teach you what I preach.
And the piano work that I preach everyday is also endorsed by many other famous musicians!
Don't just hear me for my word, see what bigger musician celebrities have to say about my work!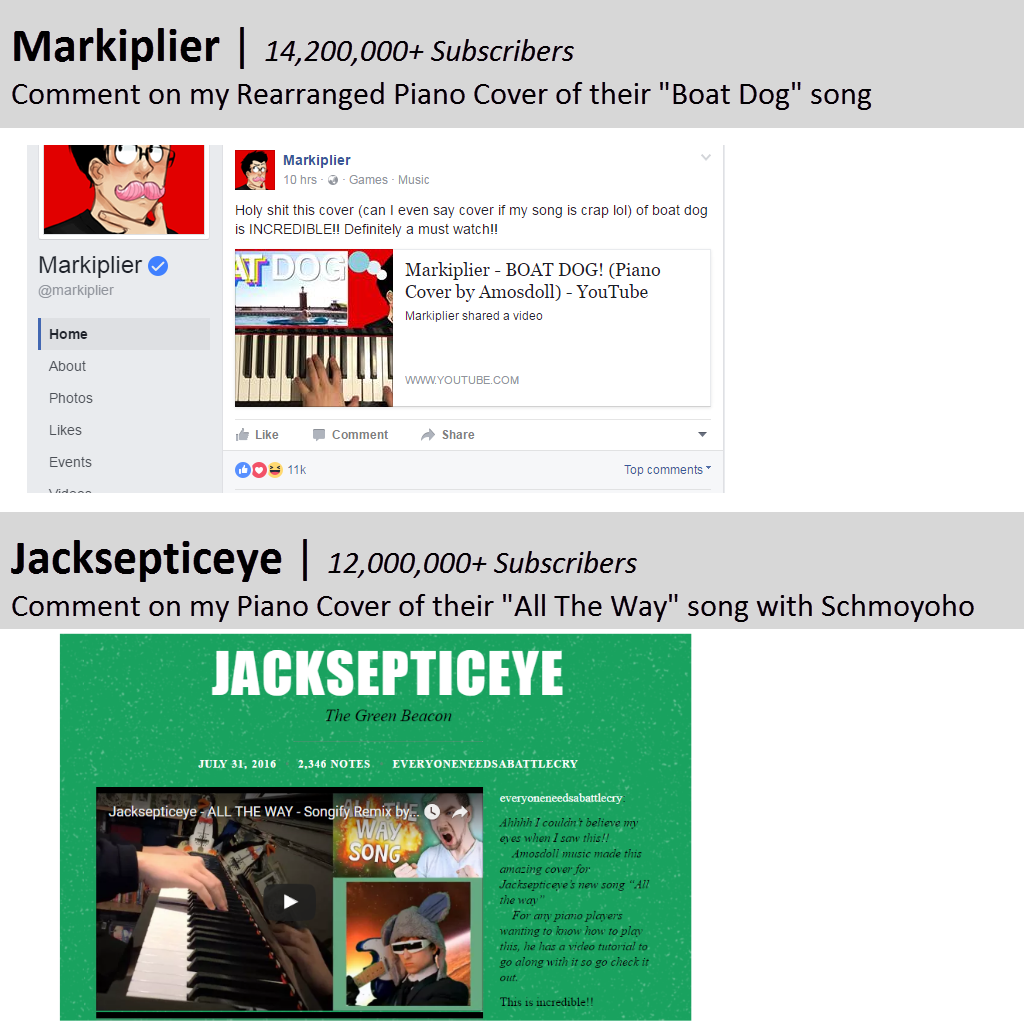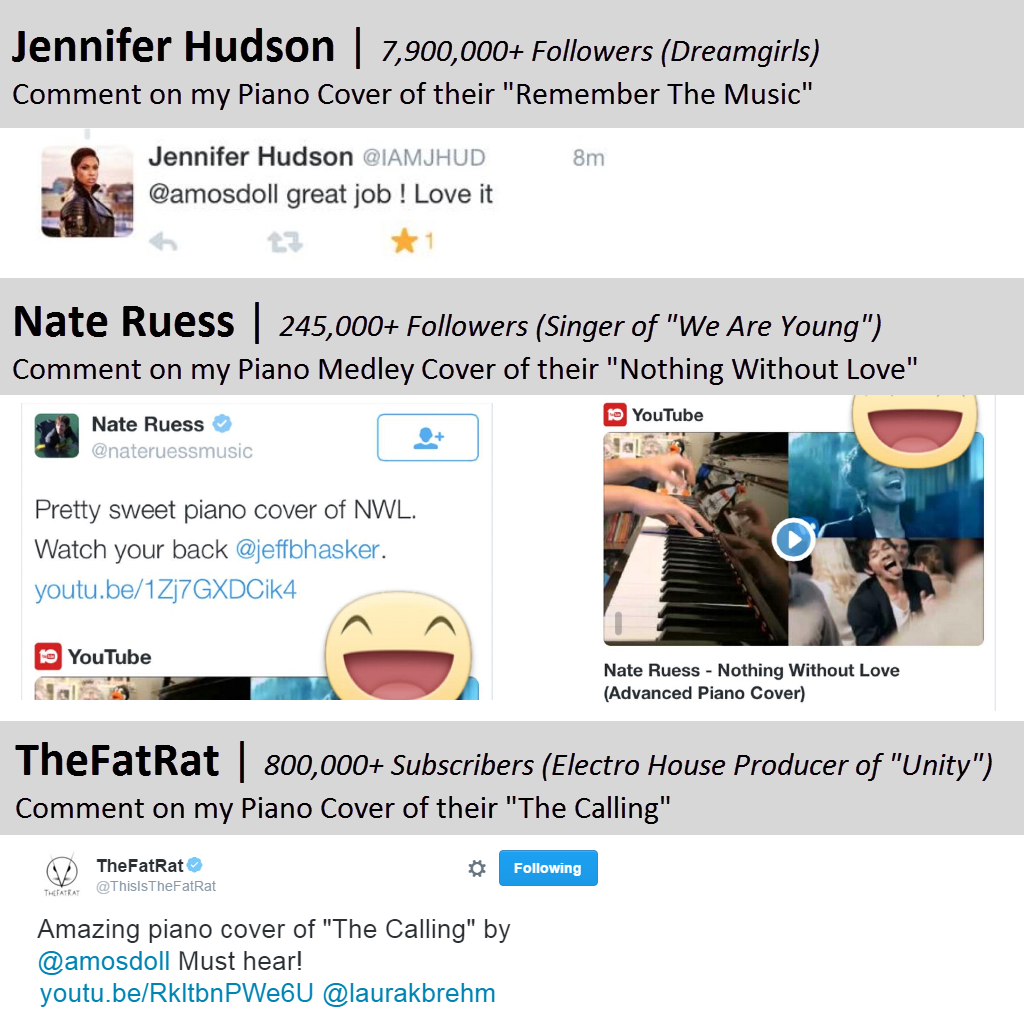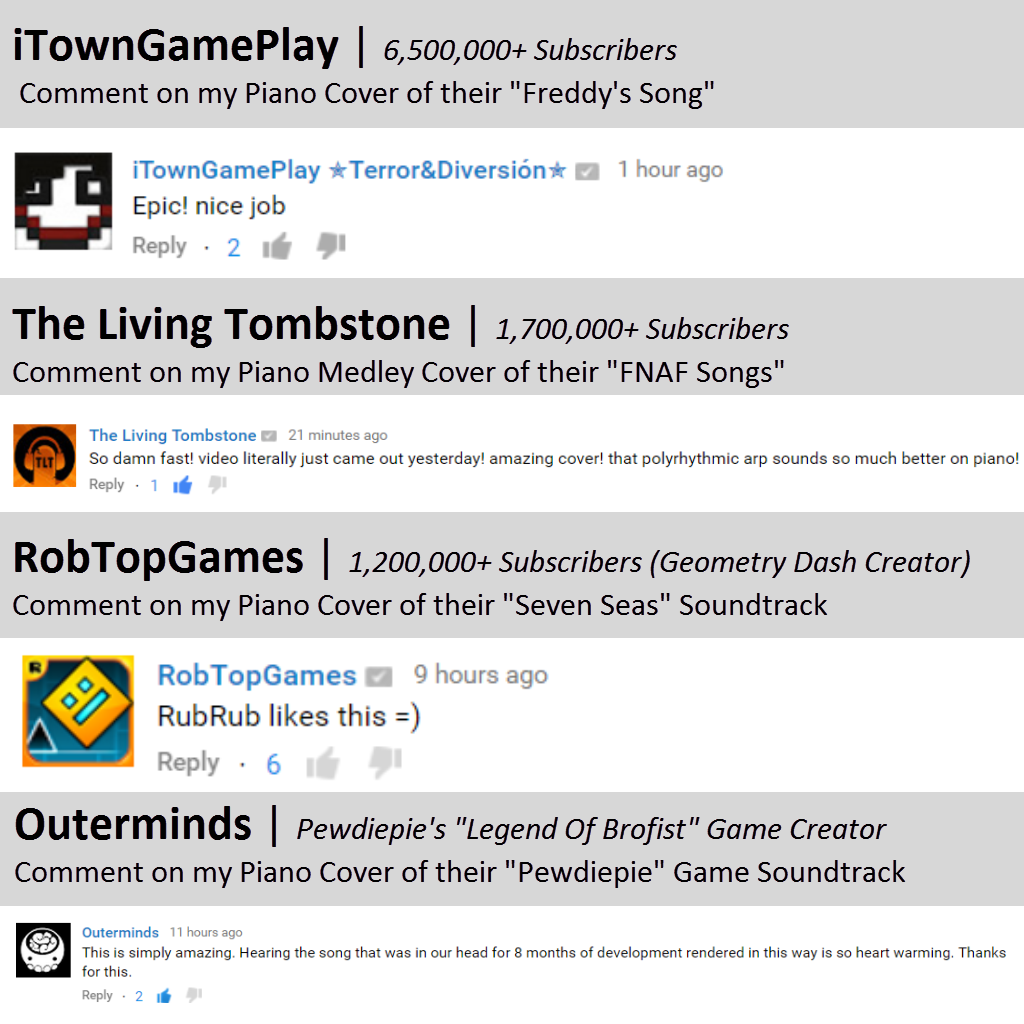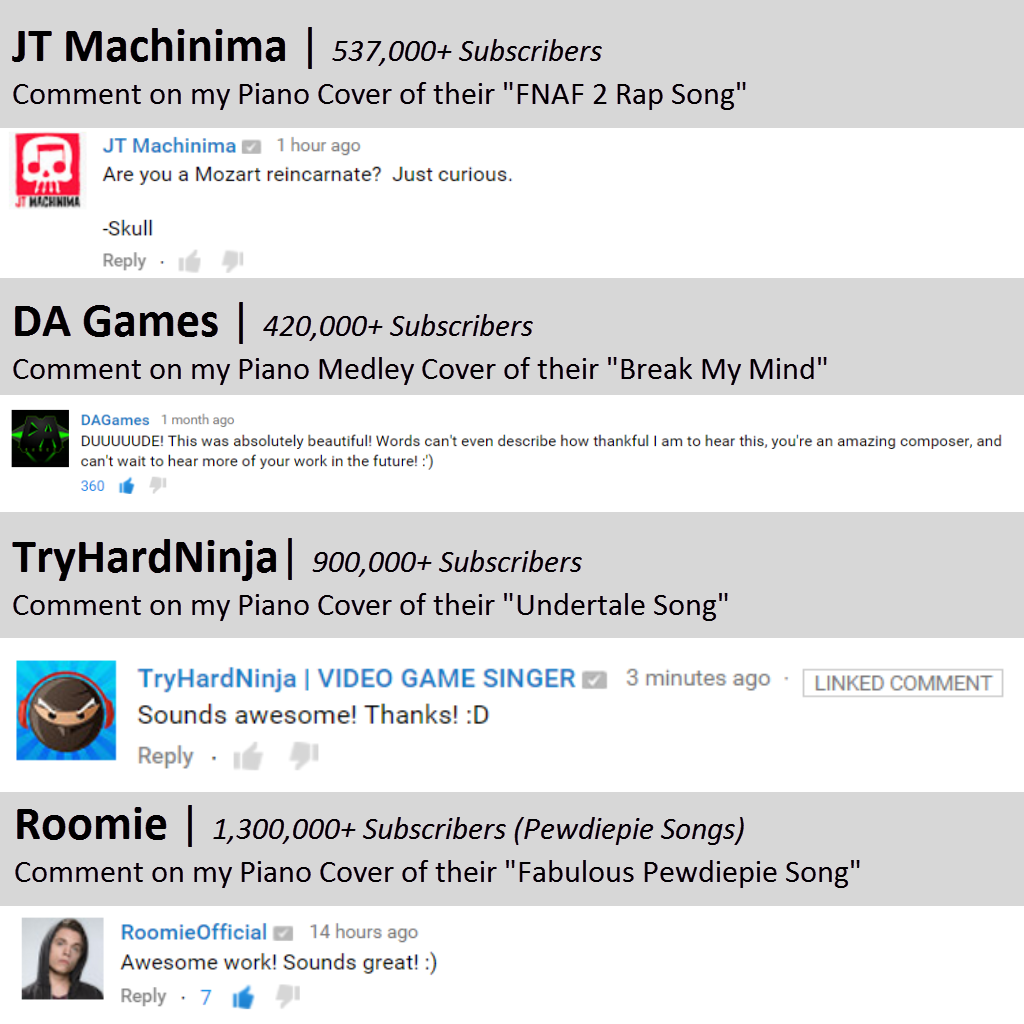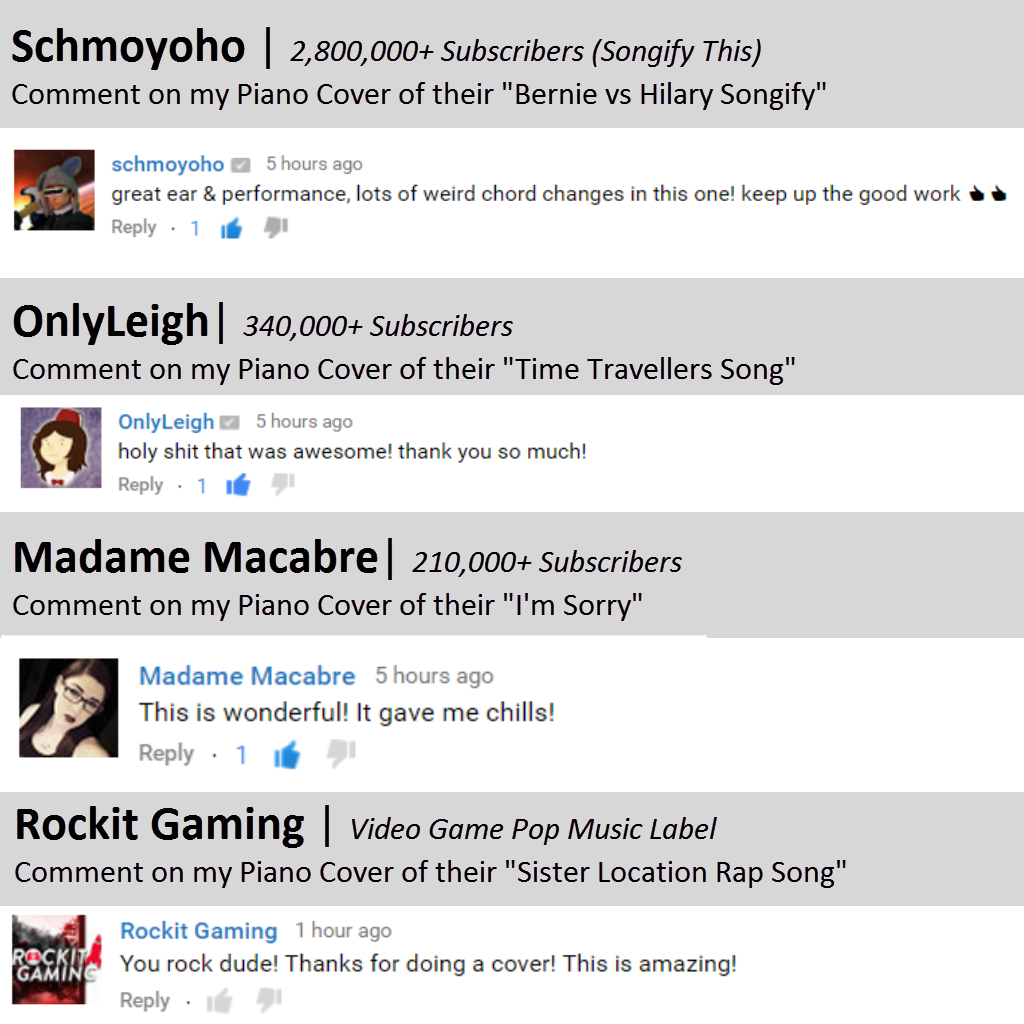 Teach The Full Song
Instead of free short 10 minutes YouTube tutorial videos teaching only a short section of the song, all of these videos are detailed 30-50 minute lessons that teach the full song!
(Yes, from the nice piano intros to emotional singing melodies and to guitar solos and more…)
I have made this library for piano enthusiasts who want to learn songs in a fast and interactive way because I have many students (both online and offline) who has told me that they have learnt so much quicker and more songs from my instructional videos than they have ever learnt from another teacher!
And this is true even from scientific and psychological evidence.
Videos Retain Best Learning Experience

The 'Cone Of Learning' by famous educationist Edgar Dale indicates that you only retain 10% of what you learn by just reading (sheet music), 20% of what you hear (instructional mp3s), but a huge jump to 50% of what you see and hear (videos and demonstrations)!!
However, nothing beats the highest efficiency in the cone of learning where you retain a whopping 90% of what you 'DO', so that is the reason why my videos interactively break everything into bite-sized chunks so that it is easy to 'DO', practice, and master the songs.
Library Flexibility
Instead of going to 1-hour weekly, expensive traditional lessons where you cannot revise or seek for answers until the next lesson... You have my whole library of full song video lessons where you have the flexibility to pause, fast forward, or rewind as many songs you want to learn, as many times you want, and whenever you want.
(You technically have me as a virtual teacher available to you at all times)
Instead of paying for expensive hourly rates for traditional teachers who cannot professionally teach you the latest most popular songs, this library only requires you to pay LESS THAN HALF the cost of the traditional teacher's hourly rate PER MONTH (not even per week!)
Look At Everything Your Library Membership Of Full Song Video Lessons Replaces!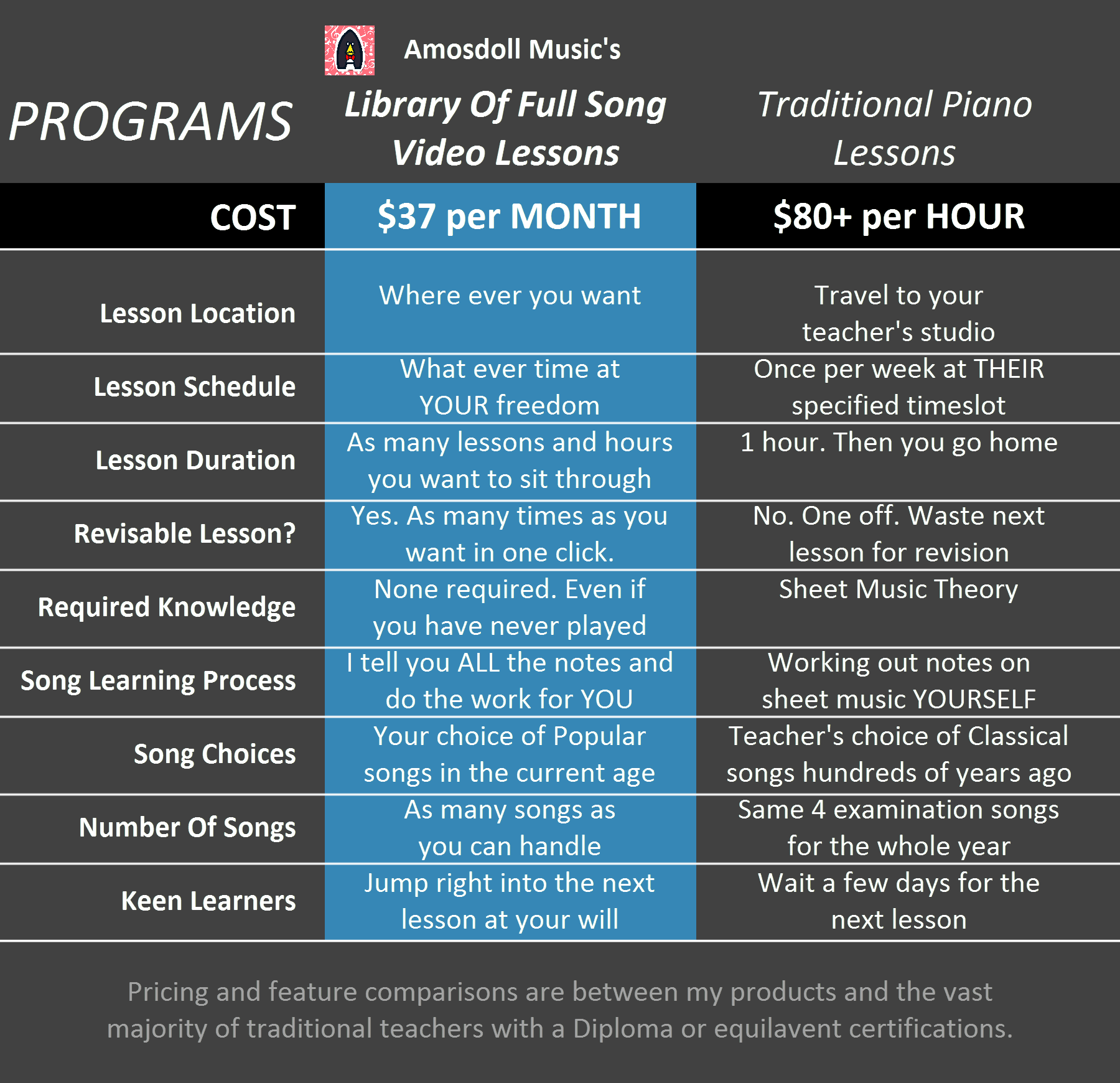 So instead of being the underappreciated musician who only knows how to play classical art songs, be the musician to play the most popular songs that most people have heard of and can connect to.
Instead of being scolded on misreading notes in your traditional lessons, I take you by the hand in my full song video lessons; section by section, part by part, separate hands to hands together, and note by note to assist any piano enthusiasts to playing the songs regardless of whatever level they are.
Know How To Play The Most Popular Songs In The World

Instead of playing classical songs that many people cannot hum or sing to whilst you are playing it, my library includes the World's Top 8 Most Viewed Songs where BILLIONS of people have seen and heard of including:
Psy's Gangnam Style, Charlie Puth's See You Again, Bruno Mar's Uptown Funk, Taylor Swift's Blank Space, Justin Bieber's Sorry, Adele's Hello and much much more!

What You'll Get
✓ My library of 40+ full song video lessons teaching you the complete start to end of popular songs.

✓ My verbal step by step guidance helping you quickly learn popular song melodies and chords... without spending weeks mastering a specific song using sheet music.

✓ Learn popular music forms and structures from the deconstructed full song lessons which help broaden the musical knowledge for song-writers and producers

✓ 50+ Hours worth of on-demand video lesson and practice content that are clearly explained... even someone who has never touched a piano before can understand!

✓ Become the best pianist you can be and have the confidence to play popular songs of your dreams and of many people's likings at ease.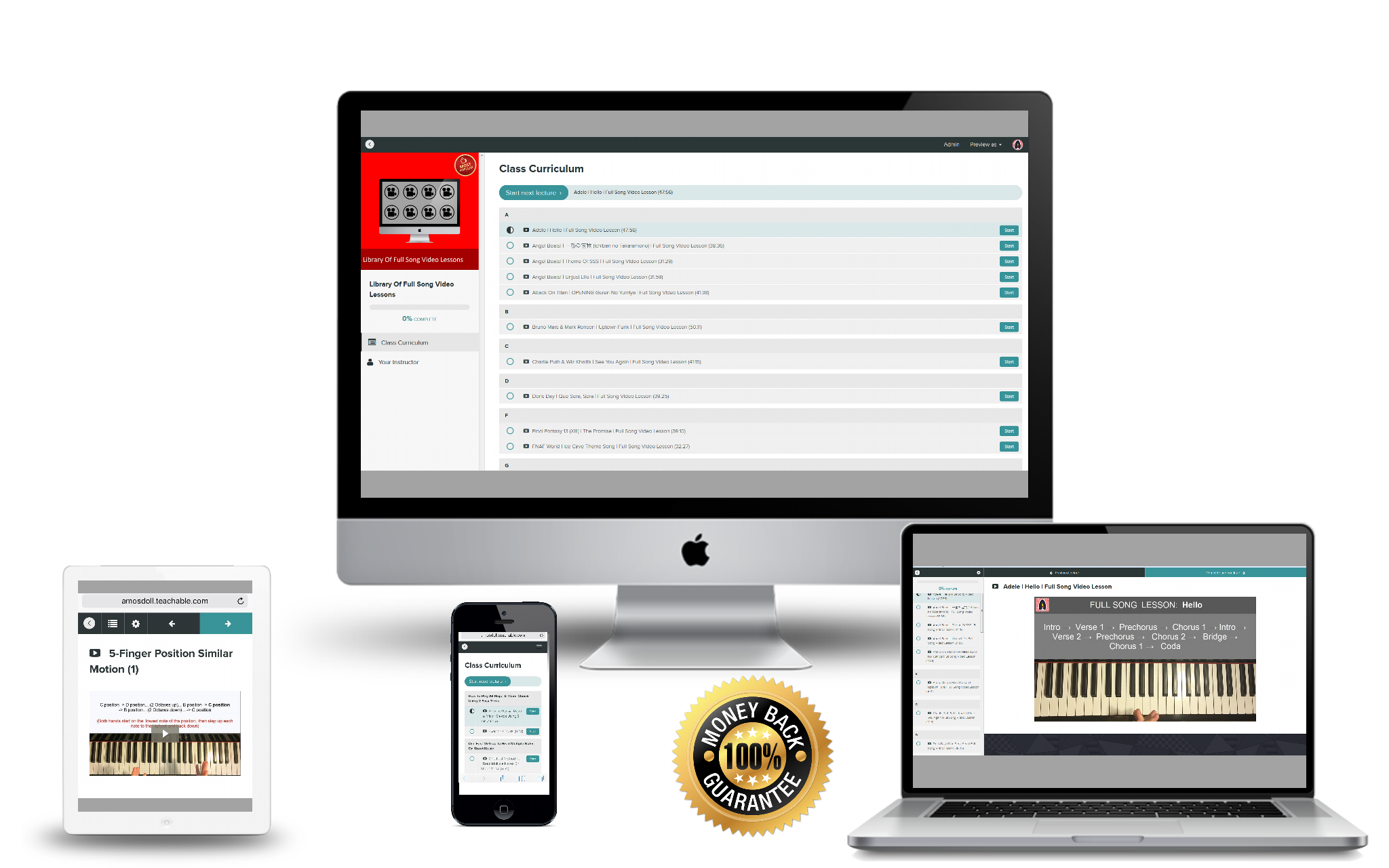 You'll Also Get These Exclusive Bonuses when You Try Out With My Membership
BONUS #1
The Full Series – Piano From Zero To Pro
Valued at $197
I've included all my core essential Piano From Zero To Pro courses for you to have. The content in these Piano From Zero To Pro series not only cover a huge amount of piano technique and music knowledge that would normally be covered in over 4+ years of typical weekly traditional lessons… but it is also structured for you to know exactly where to start and how each particular technique leads onto another.
Can you picture how much easier and enjoyable learning music would be if you no longer have to fear if you are learning the correct stuff or not from many self-proclaimed teachers out there?
On top of that, how awesome would it be to know exactly which musical knowledge and piano techniques you are missing in order to boost your skills to a higher level?
So there is no need to waste huge amounts of money and time on traditional teachers because literally everything that I teach to my beginners to immediate private students is within these series.
And just a quick preview, in these top down piano-view video lessons, I will demonstrate step by step for you how each piano technique and music concept works like note and rhythm patterns, sheet music notation, and even tricks and shortcuts that you never thought of…
BONUS #2
Pedal Mastery
Valued at $47
I also have something else for you… I'm going to give you my Pedal Mastery program.
This program is designed to help you learn how to properly use the piano foot pedal for both classical and pop music so you don't have to blindly guess and wait for years just because many classical teachers don't teach it until higher grades!
Unlike any other lessons out there where it would be weird to look so closely at a person's foot in real life, my video lessons include a dual-split screen closely showing both what my foot and hands is doing so you know exactly how to coordinate with the pedal when playing the keys.
I'll also show you how to apply the proper foot pedalling techniques for specific pedal notations in sheet music. So all you have to do is apply these techniques into the songs you are practising and you will hear the beautiful results.
BONUS #3
Sight Reading Mastery
Valued at $97
The next bonus is my Sight Reading Mastery program… This contains my personal best tricks and exercises that will train you into being able to pick up any sheet music and just play it right on the spot without stuttering over the keys.
Now don't get me wrong, our main goal is to play any song by ear and improvisation…
But as an experienced musician, I know for a fact that learning how to read the music language in the form of sheet music notation is equally as important as being able to play it… and it's easy to see why.
Not everyone knows how to instantly play any song by ear and improvisation, right?
In fact, many band musicians or music friends that you encounter would be stuck to the traditions of giving you sheet music if they want a song to be played.
So while you are mastering the ability to play by ear, you will also need to develop godly sight reading skills that will give you instant respect in any spontaneous sheet music performing situations.
BONUS #4
Instant Online Access To Entire Package
Unlike traditional lessons with periodic wait times…
When you purchase my membership, you'll be able to enjoy all of the membership content and the bonuses instantly on your computer, smartphone or tablet.
You don't have to wait for anything to be shipped to you because with instant online access to your training videos, you can start becoming the best musician you can be right away.
Once you've signed up with your username and password, all you need to do is Sign in, Click the courses or masteries that you want to strengthen, then Click the video lessons you want to watch and enjoy your piano training to success.
You also get my 30-day no risk trial period, And My Full Coverage 100% money back guarantee

Here's how it works: Get instant online access to my membership today... so you don't miss out on all the free bonuses and discounts. Watch the training videos and lessons provided for you, and even test all the free bonuses out for the next 30 days.
If for any reason, you are not 100% sure that this system can or will help you with improving on the piano and broaden your music knowledge, just show me that you have tried it and email me or contact me by phone and I'll make sure you receive your money back refund (minus handling fees). No questions, no hassle, and no signatures needed. Just a brief phone call or email will get you taken care of.
However, I'm sure you will be satisfied with my methods and lessons. I've helped thousands of music enthusiasts just like you in the past few years to achieve exponential success on the piano ranging from classical, pop, jazz, singer-songwriters and producers. As one of the top Piano channels on Youtube with 19million+ views, you can TRUST that I put my reputation on the line with this promise of training you into becoming a better musician. Now there's no time to waste... and you'll never become a better player unless you click the button below and test out my methods for yourself.
So if you want to learn popular songs in a fast and easy way that you have never before, then click "ENROL" and get started in this Membership now!


FTC Legal Disclaimer: Results may vary, and testimonials are not claimed to represent typical results. All testimonials are real, and all the evidence and comparisons provided here transformed their piano playing and interest through using my "Mastery Courses" and the Membership systems. However, these results are meant as a showcase of what the best, most motivated piano clients and students have done and should not be taken as average or typical results. This means you cannot expect maximum results without practicing, mastering, and implementing all my course methods, tricks and shortcuts into your own piano journey.