Hello there, this is Amos, owner of a Piano YouTube Channel called Amosdoll Music where I am well known for piano learning efficiency having played over 1000+ piano videos on popular songs. I want all my all my students to learn the most effective and efficient as possible too!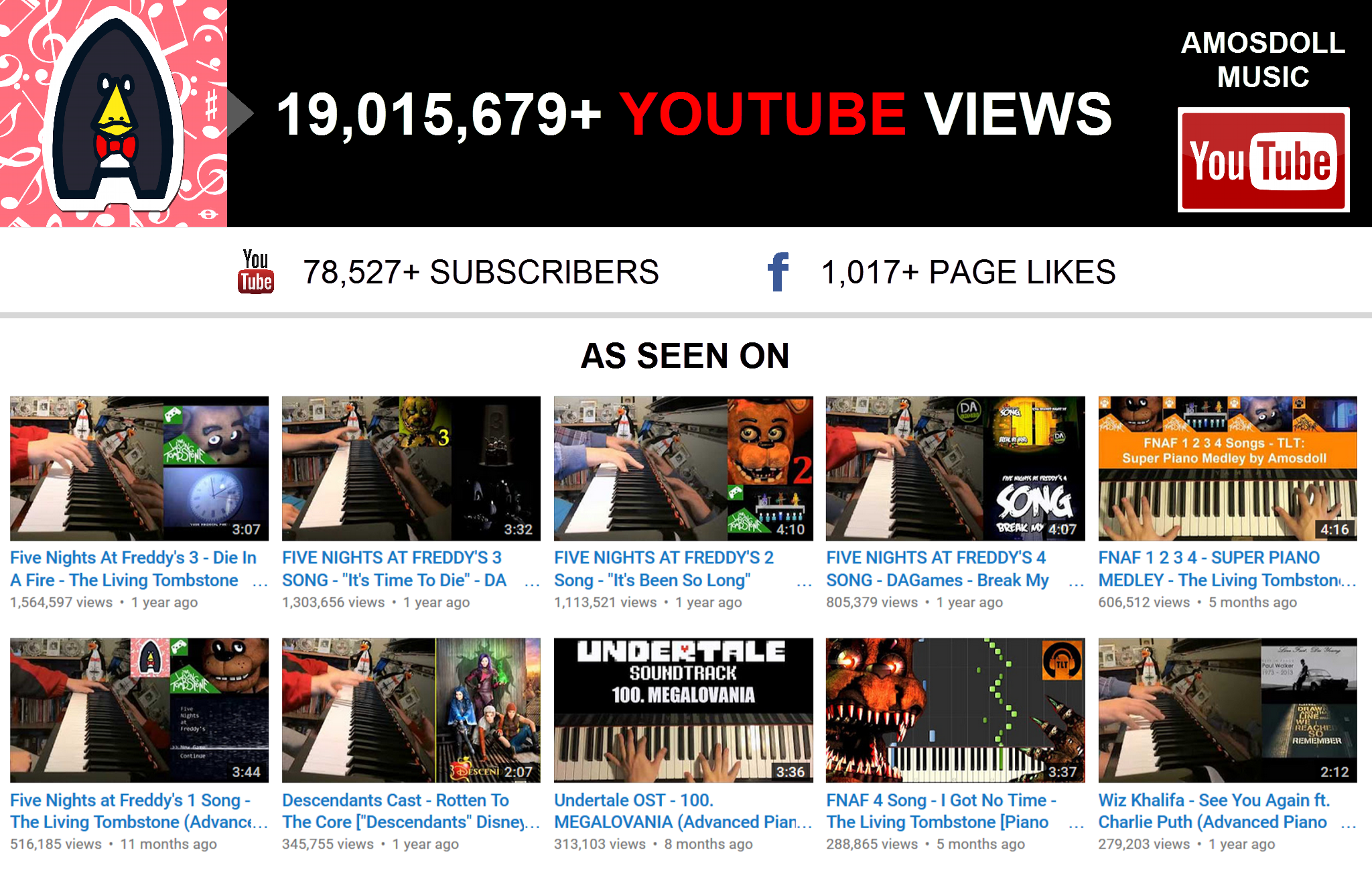 This membership is for students who are preparing for "Classical Piano For Leisure: Grade 2"
Waste less time and money inside the lessons by being able to learn more on your own.
Be able to learn a lot more than just the consultation lesson when faced one-to-one.
Prepare and do Grade 0 (Preliminary) exams extremely quickly.
Here is a no-brainer comparison in how investing in my membership is much better than expensive traditional piano lessons...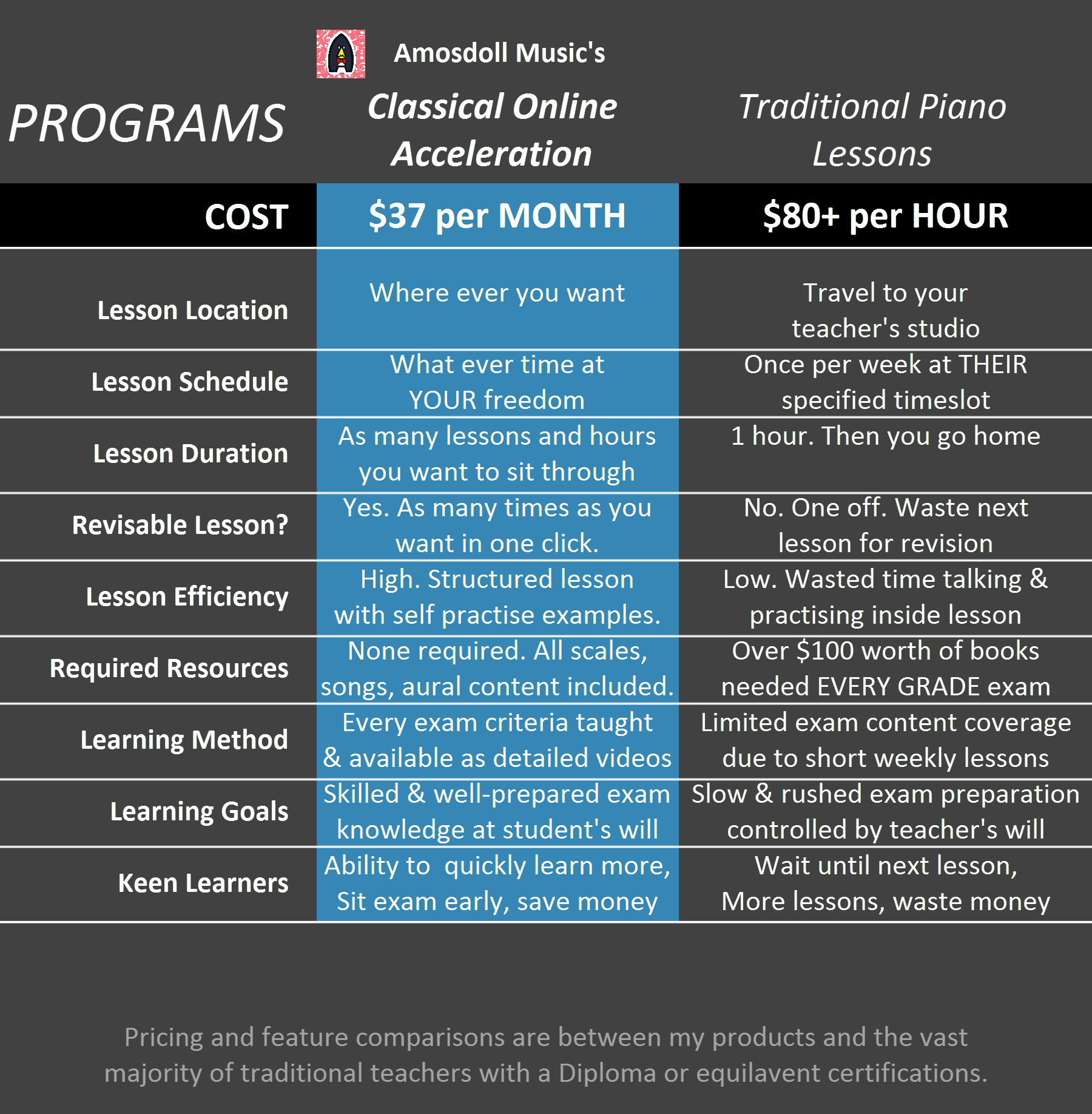 Just by seeing the comparisons, you can see that not only the content aspect, but the monetary aspect makes the Classical Online Acceleration membership a much better investment.

Assume both requires 1 year to prepare for a graded examination...
For Traditional Lessons...
- there are about 40 weekly lessons in 1 year (12 weeks not included because of holidays).
That would be 40x80=$3200 just for lessons.
- on top of that, you are required to buy your examination scale books, required song books, required aural books
That would be at least $100
- if the student is not prepared for the exam because of the negligence of the teacher, you would be charged extra lessons! (let's say you need 2 more)
That would be 2x80 = $160
Just from all that, you can see that you need to invest a grand total of $3460+ per grade usingTraditional Lessons
however...
For Classical Online Acceleration

- the number of lessons is not restricted because everything is provided and taught inside the membership, but for the purpose of this calculation, on average my classical students who use this membership only require about 6 months worth of this to be fully prepared for the examinations.
That would be 6x37= $222 just for the lessons (you can see that this is more than 15x less the cost than traditional lessons already!)
- different to traditional lessons, all the content that is required for scales, songs, and aural exercises are all clearly taught in detail in this membership. So there is no need for you to waste money on books.
So the cost of resources would be $0
- if you feel you are not as confident as you want to be for the exam, no extra lesson cost is required because you can revise and go through as much of the content as you want (for as long as you are still a member).
So the cost of extra lessons would also be $0
Just from all that, you can clearly see this is a better investment with a grand total of $222 (or less if you are a super fast and hard-working learner) using my Classical Online Accelerationmembership program.
If you think about it, you can spend 10 years in my Classical Online Acceleration membership program preparing for a graded examination, and the cost would still be LESS THAN what it costs to spend one year preparing an exam using the Traditional Lessons...
With all this in mind, the final decision is still up to you.
I don't care how you want to spend your money because that is your money after all.
But the question is...
Do you want to pay more to learn less? (Traditional Lessons)

Or do you want to pay less to learn more?
If you want to pay less to learn more, then get started by clicking enroll now to get started with our music journey together!